This post was last updated on April 24th, 2020 at 03:50 pm
I had a great Lisbon to Sintra Day trip and I managed to see both Quinta Da Regaleira and Pena Palace, two major sightseeing spots in Portugal's most fairy tale city. Read my story and discover the best things to do in Sintra, a major UNESCO World Heritage Site.
When I visited Sintra my goal was to visit at least 3 castles but the crowds and the heat slowed me down. Take this gold advice before visiting: start early in the morning and don't go in August!
How to Get from Lisbon to Sintra by train
Sintra is very close to Lisbon: it only takes 40 minutes by train and the ticket costs only 2,25€. Yes, for a couple of euros you get to see a fairy tale city and – if you have enough time- visit all 6 castles.
You have to take the train from Lisbon train Station that is called "Rossio" (be careful, there are plenty stations).
The Portuguese rail operator is Comboios de Portugal (CP) and if you visit their website at this link you can find the timetable and check what time your train leaves. I knew that I couldn't buy it online so I got there earlier. Save this tip: if you opt for this option and you are ready to take the train to Sintra, be prepared to a big queue: this city is SO touristic.
Keep in mind that once you get to the office you can buy also the "Sintra Green Card" that costs 27€ and includes the train ticket from and to Sintra, the Sintra Tourist Bus 434 and gives you free admission to the Pena Palace, Sintra Palace and a museum of your choice.
Why you should avoid taking the train to Sintra
Here comes the best part: even if I did take the train to Sintra I don't recommend it to anyone. Or at least not to anyone visiting during the high season. Why?
Because once you arrive at Sintra train Station you will have to take the bus 434: I'm sorry, I love you Sintra, but this bus is a nightmare. This bus follows a circular route and takes you to the city center and all the major sights. What's the problem? While I was happy to arrive just in half an hour at this fairy tale village I spent another hour in the line, waiting for the bus. In the line there were around 100 people (or more), one behind another, waiting for the bus to come and board. I got very frustrated, as waiting under the hot Portuguese sun during the summer is not something that I enjoy, so I start calling for a taxi. Haha. No taxis my dear and no other solution to arrive at the historic center!
So to all my friends that visited after I recommended a private tour from Lisbon. It's more expensive but you have 1 day to visit so many castles and sight, don't make my the mistake, I visited only 2 castles and I am so regretting it right now.
Here's a nice day trip from Lisbon to Sintra that you can book online including the ticket to Pena Palace, Cabo Da Roca (Europe's most western cliffs) and the beautiful town of  Cascais.
Quinta da Regaleira, Sintra's magic forest  
The bus takes you take the bus  435 that takes you directly to the park of Quinta De Regaleira. Entrance is 6€ and you can see it all in 3 or 4 hours.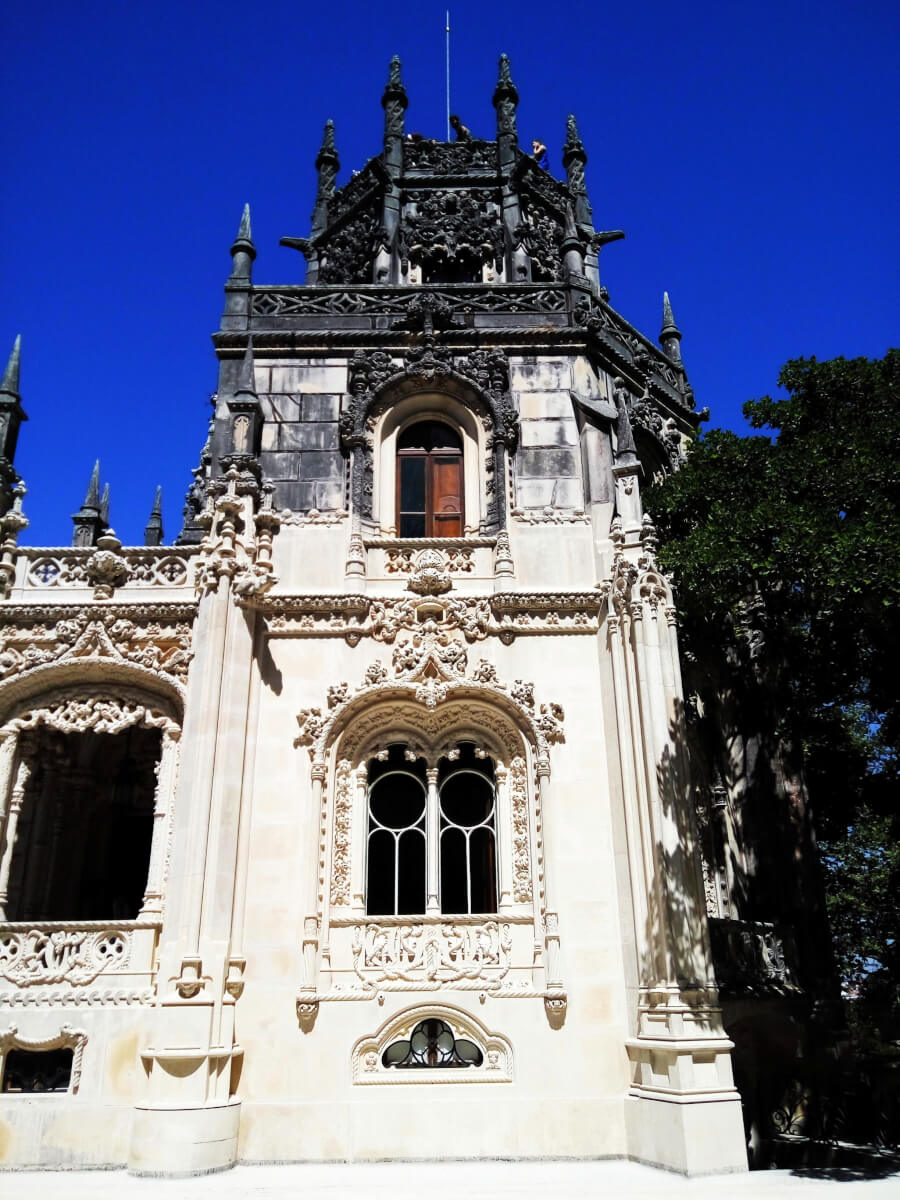 Magic wells, spiral-towers, dreamy fountains, mysterious caves and other strange things belong to Quinta De Regaleira, a World Heritage Site of UNESCO.
Quinta De Regaleira is one of the most famous and breathtaking sites that you have to visit while you are in Lisbon. 
I am pretty sure that the above well was never used to access groundwater. There are too many theories about Quinta De Regaleira's well or Ititiation Well: was it Masonic? Was it build by Knights? or by Alchemist? What was the real purpose of this well?
Once you get down to the well (if you have children with you that are afraid of the dark please skip this!) you will find underground tunnels. If you follow them they will take you to other parts of the park! Crazy eh?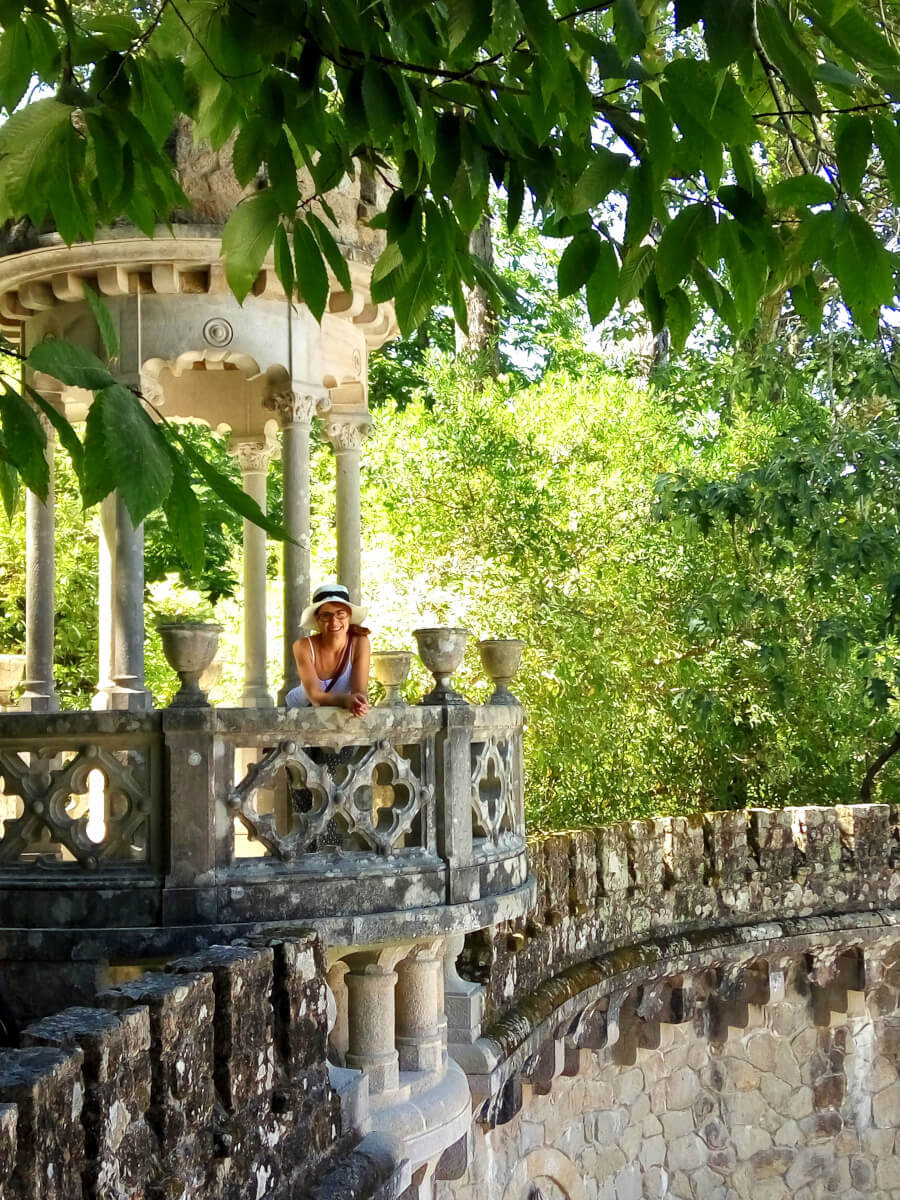 Tips: The only coffee shop is close to the exit, so plan ahead and bring some snacks. If you looking to save some money, have in mind that the city is quite touristic and the prices are a bit high!

Palacio da Pena, Sintra's most famous palace 
This is Sintra's most eccentric, strange Palace. I went directly after visiting Quinta de Regaleira, thanks to the bus 435.  This bus takes you to the city center: you can have a walk around, by some souvenirs, relax and….wait for the next bus. This time you have to take the 434 n order to go up to Palacio da Pena.
Don't attempt to do it by feet. If you do it, just before you pass out,  remember that Dina told you not to.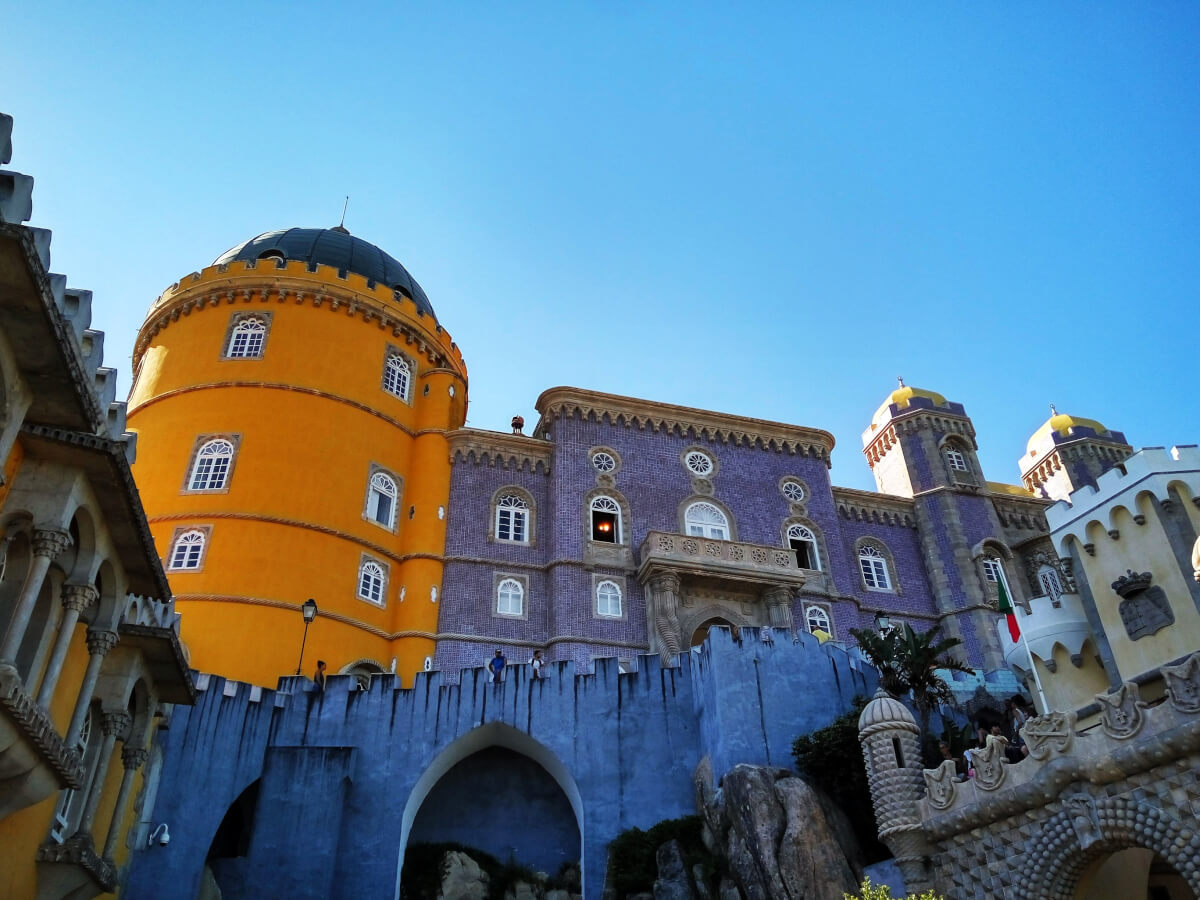 The ticket costs just 14€ and you can get to the Park and the National Palace of Pena.
Yes, here are some other beautiful dreamy gardens, but if you don't have time you can get a reduced ticket for 10€ .
I paid that fee for the Pena Palace and managed to take this amazing shots. You can't enter inside the Palace and you can't visit the gardens.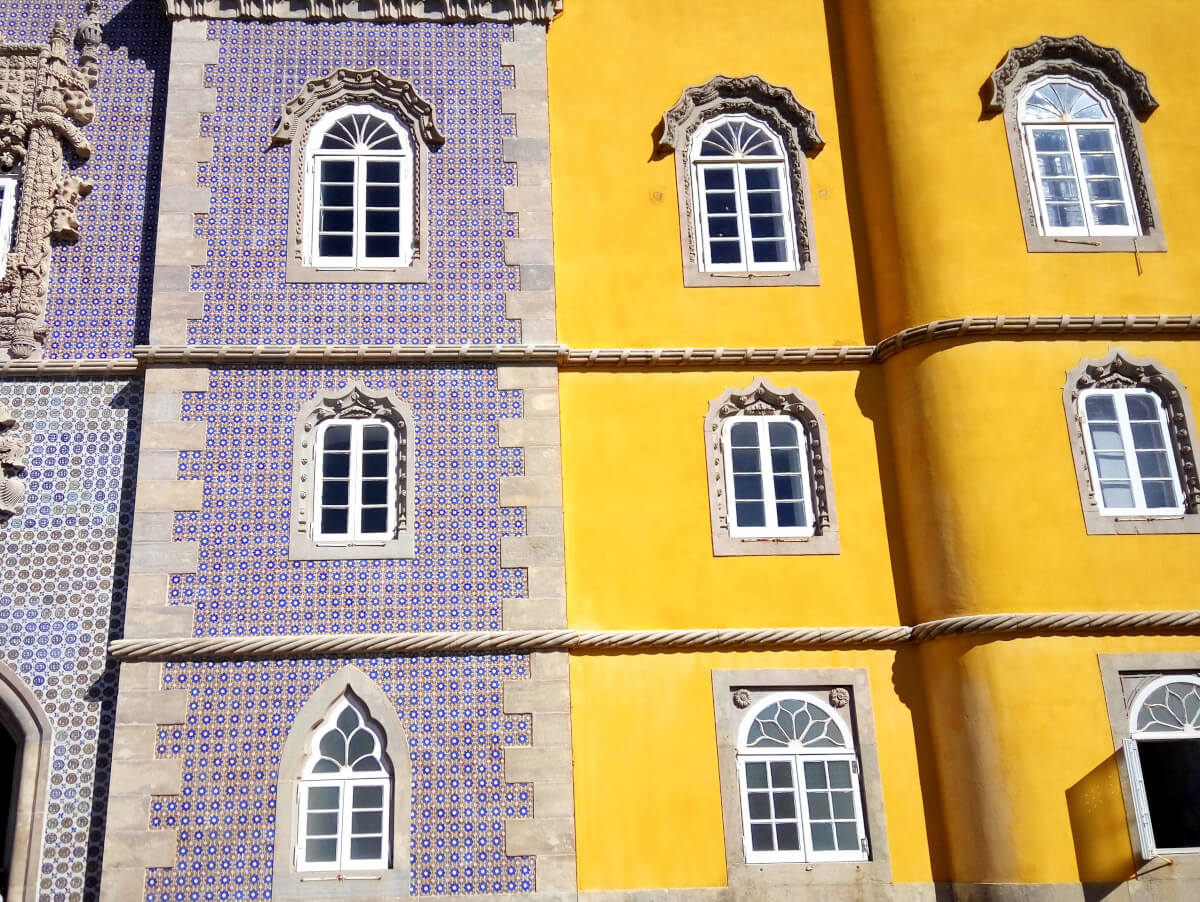 You may think that is a bit expensive, compared to the prices in Portugal, but keep in mind that is 1 of the 7 wonders of Portugal! 
I got amazed by the bright colors, it looks like you are in Disneyland! Could hardly imagine it with princesses and kings.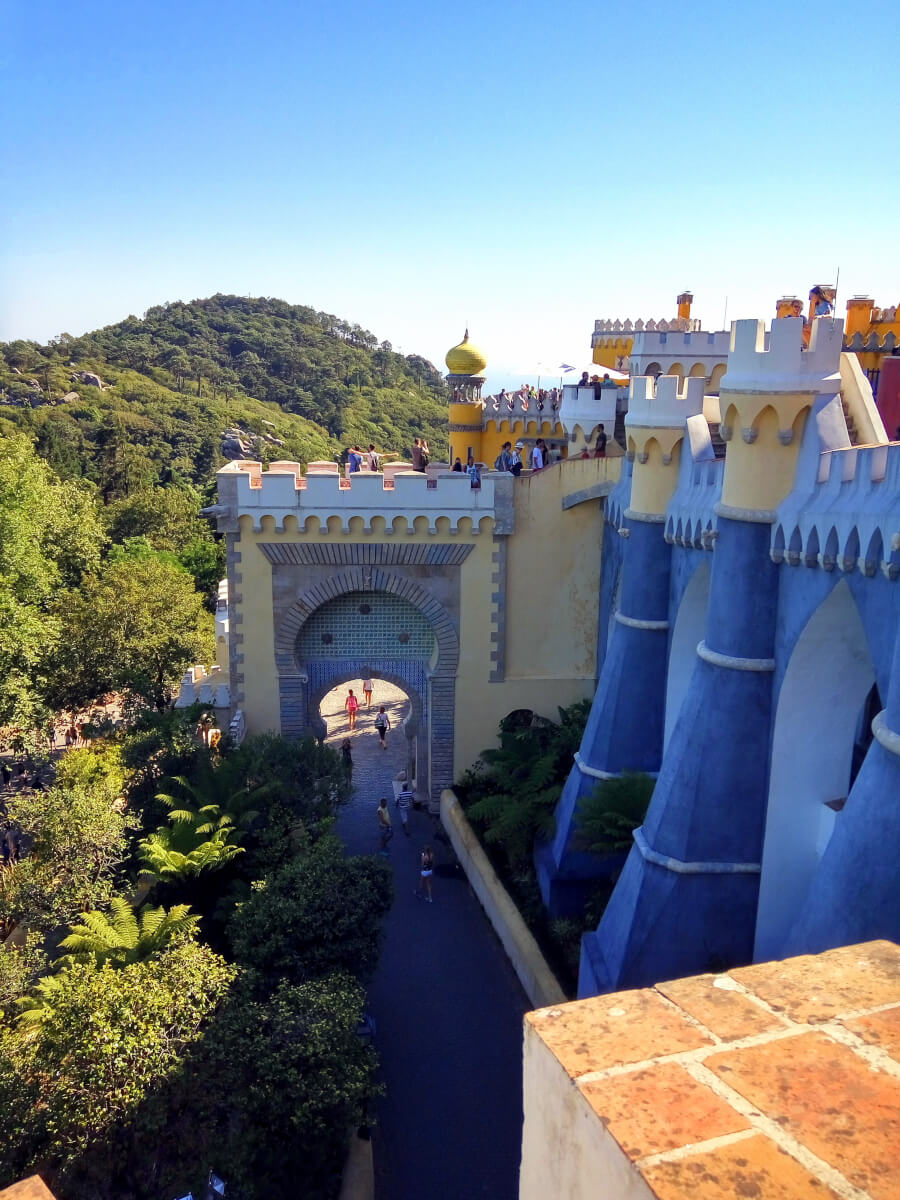 Keep in mind that the ticket for Pena Palace you can buy it online from here: Pena Palace & Park Skip-the-Line Entrance Ticket
Did you like it? Pin it!  

Disclaimer: this post may contain affiliate links, which means if you click on a link and purchase something I will receive a small commission – without any extra cost for you -.  By booking through one of these links, you help to keep this blog up and running! 
(Visited 3,160 times, 1 visits today)