This post was last updated on January 6th, 2023 at 04:30 pm
The Pantheon is one of the most beautiful and charming tourist attractions in Rome. It is a 2000-year-old temple dedicated to all the gods: it is so well-preserved that it is still considered to be one of the most important architectural buildings in the Western world.
The Pantheon Rome, History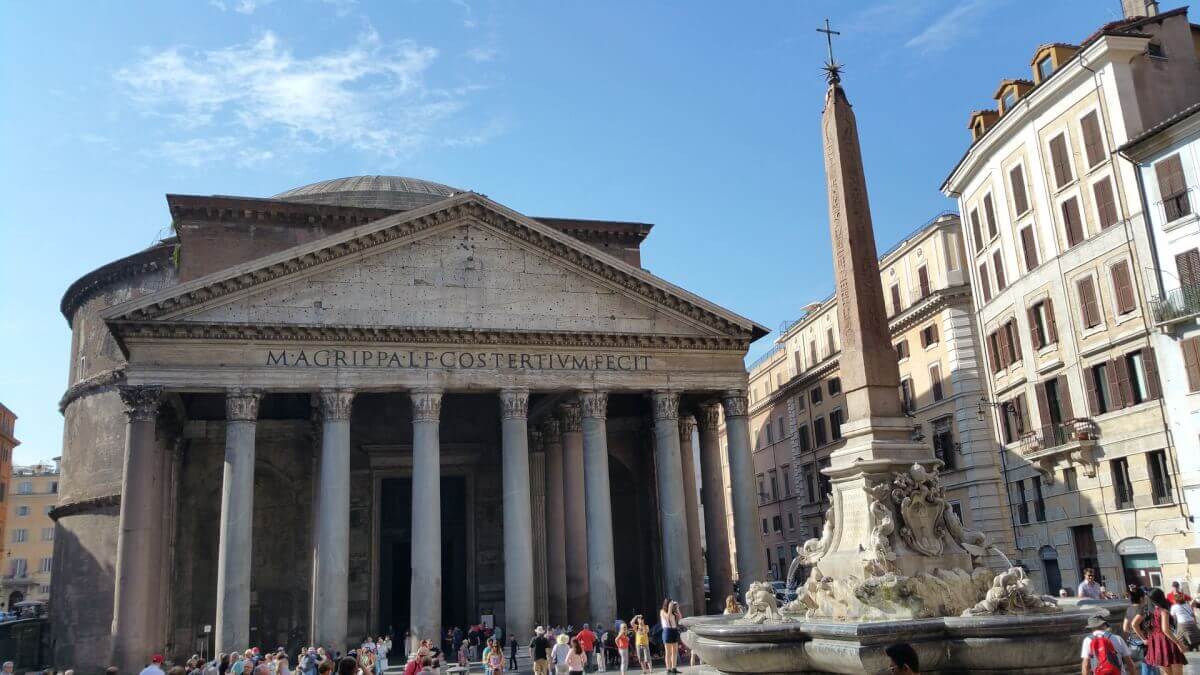 It was originally built during the reign of Agrippa, in 27 BC, but 54 years later it was engulfed in flames. It was rebuilt in 125 BC by the emperor Hadrian as a temple dedicated to all the gods: the word derives from the Greek word Πάνθειον "Pantheion", Pan-theion which means "all gods". It has been a very active temple for about 2 centuries and had hosted numerous pagan sacrifices. It is even been said that animals were sacrificed and burned, with the smoke escaping from the opening of the dome, which is actually the only opening of the temple. In 608 AD the temple was converted into a Christian church and today is officially called Basilica di Santa Maria ad Martyres, or Santa Maria Rotunda.
Why is it worth visiting the Pantheon?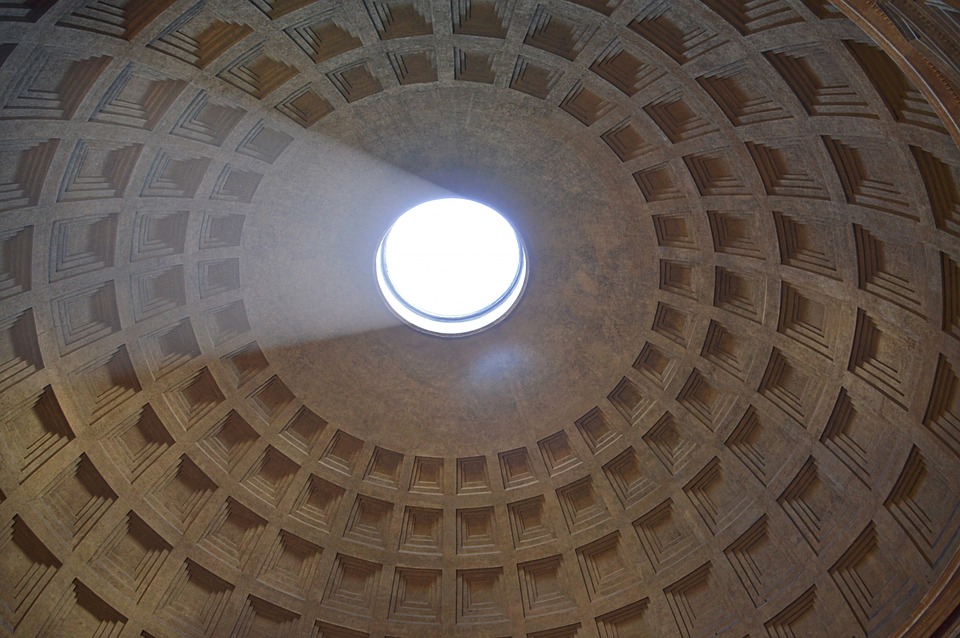 The Pantheon is considered to be an architectural "miracle" that even today impresses with its geometry. The light comes into the temple from a circular opening in the middle of the dome about 9 meters wide, known as oculus (in Latin "eye"). This is the only opening in the building, there are no windows or other doors except the main one.
But when it rains, what happens? The water is absorbed by 22 small holes in the marble floor.
Also inside the Pantheon you can find the tomb of Vittorio Emanuele II of Umberto I, and the painter Raphael.
According to this article, scientists now believe that the temple was actually a huge Sundial, aiming to "light" the emperor when entering the temple, making him look glorious.
The Pantheon Rome, opening hours
The opening hours of the Pantheon are:
Monday to Saturday: 8.30 to 19.30
Sundays: 9.00 to 18.00
Italian National Holidays: 9:00 to 13:00 
The Pantheon is closed: 1st of January, 1st of May and 25 December.
Entrance to the Pantheon in Rome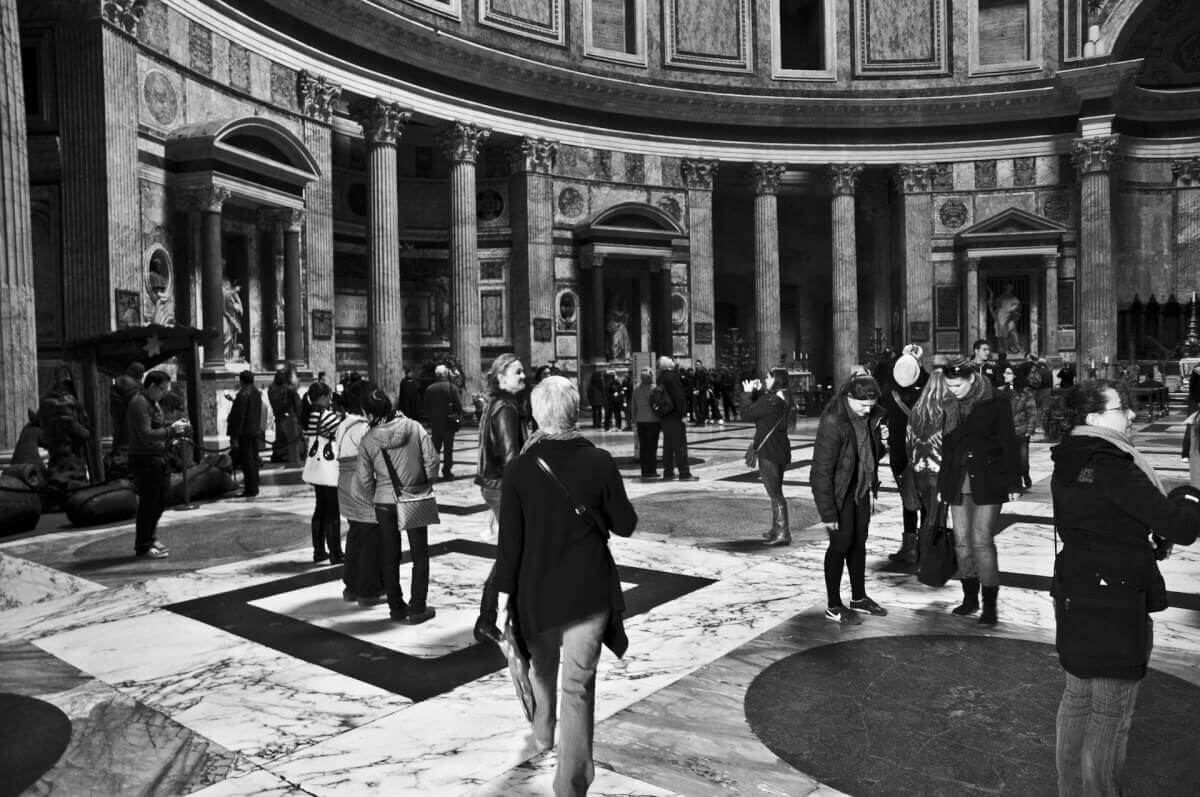 Admission to the Pantheon is free.  The visit usually lasts 10 to 20 minutes (yes, it is relatively small)!
What to see next? Try Campo Dei Fiori! Also, don't forget that the area around the Pantheon has some of Rome's best hotels and the spot is super central: it is one of the best neighborhoods in Rome! Before you leave check out these offers:
Did you liked it? Pin it for later!

Disclaimer: This post may contain affiliate links, which means if you click on a link and purchase something I will receive a small commission – without any extra cost for you -.  By booking through one of these links, you help to keep this blog up and running! 
(Visited 601 times, 1 visits today)